Hendra Vaccination – the facts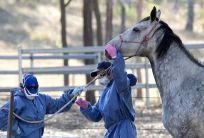 There have been nearly 19000 doses of vaccine given to horses in Australia since the release of the vaccine.
Out of those 19000 doses there have been less than 40 reported reactions to the vaccine (about 0.2%), these being a mild fever (most), swelling of the injection site and stiff neck, and urticaria in 2 cases. So, a low incidence of ANY reaction.
The vaccine has been protective to horses at 6months from the original vaccination, on challenge with LARGE doses of vaccine (>500 times the vaccine available from a bat). We are now awaiting the 12 month testing, but at this stage we know that the vaccine will last at LEAST 6months, and the re-vaccination date will be changed to 6 months (from "unknown") in the near future. Hopefully the 12month testing will show at least 12 months of safety.
All of the vaccinated horses tested showed no sign of disease, no evidence of virus replication (ie multiplication within an asymptomatic host as may occur in a "carrier") and no shedding of virus. So it appears the vaccine stops them from getting the disease.
Over 40 brood mares including some embryo transfer recipient mares have been vaccinated in various stages of pregnancy – early and late – and have remained pregnant or gone on to foal normally with no evidence of ill effects on either mares or foals. There is some work currently ongoing with pregnant mares and those results should be available in about 12 months. At this point though it might appear that the vaccine is safe in brood mares.
There has been some work regarding the intervals between the first and second vaccinations, and the results are being submitted to the APVMA with the hope that in the future there will be some changes to the strict 21day interval. This has to come from the APVMA, so we just have to wait until the process is completed.
Export of horses is still being worked at the bureaucratic level. Currently export to UK, the Americas and New Zealand of vaccinated horses (ie have antibody to the G-Protein of Hendra) is not restricted, but export to the Asian destinations including Hong Kong, Malaysia, Japan, China and surrounding countries and the UAE is not allowed yet. First thrust is currently in action to get Hong Kong to accept the vaccinated horses, with the hope that the surrounding countries will follow suit. It appears that the best way forward will be through having certification of vaccination, as best-case testing will throw up false positives and we don't need that!
75% of exported horses go to New Zealand so the concern with export centres on the 25% of the 2500 – 3000 horses that are exported annually to all destinations.
So, to address some other concerns with various horse industries.......

Very few side effects to the vaccine and NO serious reactions have been seen, even in brood mares. More results are in the pipeline, but it would appear that vaccination of horses is safe and vaccination of brood mares will also be shown to be safe.
Current advice from the Australian Veterinary Association's lawyers is that because there is a vaccine now available, if a person catches Hendra from your horse, or another person's horse catches Hendra from your horse, or your property becomes quarantined, Insurance policies will not protect you from a law suit. With litigation becoming more frequent this is a significant concern.
Your horse's health and getting veterinary care may also become an issue as time goes along. Of the people who have died of Hendra, more than half have been Equine veterinarians. So, if you think it's getting hard to find a veterinarian to treat your horse NOW, just think what happens in the not too far distant future, when equine vets may refuse to come out to a horse that is sick with symptoms that may potentially be Hendravirus (a fever, wobbly, sick/ off colour, respiratory infection that is severe and sudden onset etc) if it has NOT been vaccinated. Or being refused entry into an equine hospital until negative results have been obtained, if the horse has not been vaccinated. Delayed surgery on a colicy horse may be a death sentence on a horse, but a Hendra horse on the table is a potential death sentence for the Vets, the Nurses, and the practice itself. We are taking this seriously!!! On the other hand if that horse has been vaccinated, there is no problem. There may also come a time when us as practice owners may find it difficult to find vets who are prepared to risk their lives in their normal occupation, to become horse vets. And then there is the insurance angle and litigation. Result?.... No more horse vets! Won't happen? There is already one practice that has written to all its horse clients explaining that they reserve the right not to attend a sick horse that has not been vaccinated.
Will a vet come out to your horse? If your horse is sick and has signs that could be Hendra, the vet you call may refuse to attend. Alternatively they may attend but they will very likely use full Personal Protection Equipment (PPE) and may ask you to use it also, and if you refuse may get you to sign a document saying you were offered PPE and refused due to the legal implications if it is a positive. This PPE includes setting up a disinfection station, using overalls facemasks and goggles and gloves, and legally we have to show you how to put it on and ensure that you can do it in accordance with the regulations. Then there has to be procedures to be followed to approach and examine the animal and to take samples and further procedures when walking away to ensure safety and disinfection. These procedures are mandated to us as veterinarians by the Dept of Occupational Health and Safety, and if we don't abide by them we are liable for prosecution if there is a positive case, so this stuff has to be taken seriously. There is a cost associated with these procedures – both in our time and in materials – and inevitably these will be passed on to the client. It can take up to an extra hour to complete and the veterinary presence will be charged for at normal rates. On the other hand if the horse is vaccinated .......
Price? Approximately one shoeing per vaccination. What price is peace of mind?
The government will not be paying for the vaccine. It will not subsidise your hobby.
Will the vaccine last a year? Or a lifetime? We don't know yet but we do know that at 6 months we are still in good shape.
Does the vaccine cause sterility? There is no evidence of that at this point.
Can the vaccination cause the disease? NO! The vaccination is to one protein – the G-protein which causes the virus to stick to the cell so that it can infect it. So there is no actual virus in the vaccine. It is not a live vaccine, it is not a killed vaccine. So if the virus manages to get into the body, it slides off the cells and is eliminated like anything else.
Is there a human vaccine on the horizon? At this stage it appears unlikely because of sheer numbers. It is uneconomical for a vaccine company to do all the work necessary to develop a vaccine with only such a small number of people to vaccinate.