Dr Dave's Churchill Fellowship Tour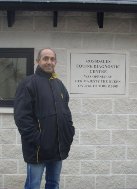 In 2008 Dr David Bartholomeusz was awarded the prestigious position of a Churchill Fellow in Advanced Equine Dentistry. Part of this accolade was a scholarship to travel the world to improve his knowledge, philosophy and practice in this field. Dr Dave has just returned from his month-long trip to America and Europe to work the some of the world's leading practitioners in equine dentistry.
In February 2011 Dr Dave left Australia for the icy cold Scottish capital Edinburgh, where he was lucky enough to be guided by equine dentistry pioneer Professor Paddy Dixon at the Royal (Dick) School of Veterinary Science.  He then went on to visit other practices in the UK, including Kessock Equine Veterinary Hospital, and the Rossdale Equine Centre, which is arguably one of the leading equine practices in the world, and one of the very few if not the only place in the world where CT scans of the head are performed in the standing horse.
Dr Dave then flew to work with some of the leading practitioners in the USA (such as Dr B A Rucker, Drs Tom & Colleen Johnson, and his buddy Dr Dwight Bennett). At the Colorado State University Dr Dave not only experienced advanced techniques in equine dentistry, but also in cancer treatment and advanced assisted equine reproduction.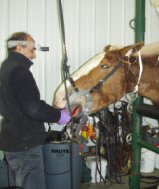 As a result of his travels Dr Dave has been convinced about the absolute necessity of routine and correctly implemented equine dentistry. He has also been encouraged to support a regulation of the equine dentistry industry, to promote better care and welfare of the horses and to reduce the detrimental effects of unethical, undereducated or underperforming dental practitioners. Dr Dave came across one particular case which highlighted the importance of educated dental and veterinary practitioners. Cal was a Belgium draught horse who was referred as a last resort to a practice Dr Dave was visiting. Cal had a one-sided nasal discharge, diagnosed with x-rays by his normal vet as sinusitis, and consequently he had his sinus opened three times, and had to have his sinus flushed daily (which was rather expensive). Upon Cal's arrival it was discovered that he had an extra tooth! This was the cause of the infection, and with Dr Dave's help, the equine dental surgeon removed it via the mouth. Although Dr Dave did not stay long enough to witness Cal's full recovery, the sinus discharge odour and volume was already significantly reduced.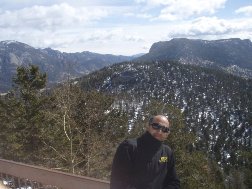 Dr Dave is looking forward to implementing his findings in his local practice. To book a dental appointment with Dr Dave phone VEVS on 5543 1213.