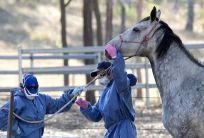 Veterinarians can provide vaccination against Hendra virus in horses from 5th November 2012. Due to its availability under the Minor Use Permit conditions there are some very strict restrictions that are in place.
At this stage the vaccination procedure is as follows:
Horses receive two vaccines exactly 21 days apart. This timeframe is absolutely mandatory
For both vaccines horses need to have a health examination by the vet to ascertain they are well enough to proceed
It is also mandatory that they are microchipped before their first vaccine. Your microchip will be recorded in a national register
Horses need to be at least 4 months old to receive the vaccine. It is not recommended in stallions or pregnant mares. The effects of the vaccine on fertility has not yet been ascertained
The vaccine will be recorded by your veterinarian in a national database.
It is predicted that the vaccine will require an annual booster, but this is still in research stage and is not confirmed.
There were site reactions in about 30% of the horses tested, and this generally presented as swelling (2cm x 2cm). These reactions were reported to resolve quickly and with no treatment.
Obviously the vaccine is a preventative for Hendra Virus, and not a treatment. If you suspect your horse has contracted Hendra contact your vet immediately.
Click here for a Hendra Vaccine schedule.