THE HENDRA VACCINE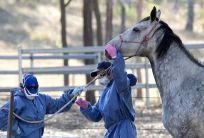 Veterinarians can provide vaccination against Hendra virus in horses from 5th November 2012. Due to its availability under the Minor Use Permit conditions there are some very strict restrictions that are in place.
Veterinarians have been vaccinating horses against Hendra virus since November 2012. The Hendra virus vaccination is fully registered by the Australian Pesticides and Veterinary Medicines Authority. The Queensland Parliament Report into the Hendra Vaccine in October 2016 found the vaccine to be safe and effective.
The vaccination procedure is as follows:
The horse's health is examined by a veterinarian to ascertain they are well enough to vaccinate.
It is mandatory that the horse is microchipped before their first Hendra vaccination. The horse's microchip number and Hendra vaccination is recorded in a national register.
Horses need to be at least 4 months old to receive the Hendra vaccination.
Horses receive two initial vaccinations administered three to six weeks apart, followed by a booster at 6 months, followed by annual boosters.
The Hendra vaccination can only be administered by veterinarians. This is to ensure the vaccination is handled, stored and administered correctly.
No vaccinated horses have contracted Hendra virus.
The vaccine is a preventative measure for Hendra virus and not a treatment. If you suspect your horse has contracted Hendra please contact your vet immediately.
This site has more Hendra Vaccine information: https://www.health4horses.com.au/Global/Factsheets/H4H_Factsheet_Hendra.pdf
This link will allow you to enter a horse's microchip number to see if it is up to date with Hendra vaccinations: https://www.health4horses.com.au/About/Hendra-Vaccination-Lookup/