Abnormalities in this set of incisors
Can you pick any abnormalities in this set of incisors?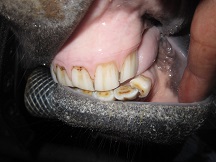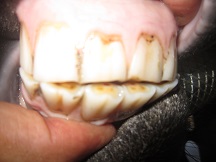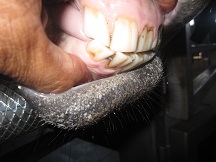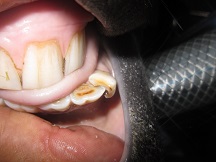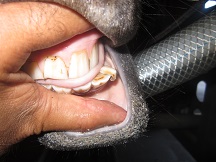 The corner incisor number 303 ( the lower left most outside incisor is rotated to such a degree that it is wrapped around the adjacent incisor. Compare it with the other side. This makes the chewing cycle change resulting in abnormal wear further back in the mouth and also the increased chance of periodontal disease in both the abnormal and the adjacent normal tooth, which would result in both possibly having to be removed.
The central and lateral incisors top and bottom left and right (the four middle teeth on top and bottom) have worn n the front edge of the biting surface of the teeth. These two surfaces are supposed to act like scissors to cleanly cut even low grass. When they are worn like this their ability to form a tight sharp edge is compromised
Why do these abnormalities happen?
Rotation of teeth is often the result of a crowded mouth. Look carsfully at the pictures and you will notice how big my hand is compared to the mouth. This is a Miniature. However as the other side came up normally there may be another contributing factor, such as injury or possibly just bad luck.
Wear in this pattern is usually caused by inappropriate use of the front teeth, This could be from crib biting, windsucking, tree chewing or possibly itchiness causing the horse to wear its teeth on its own hair.