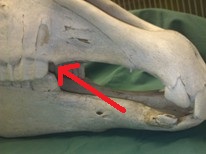 A wolftooth can develop in around 70% of horses, and is the 1st premolar. In most cases one or two wolf teeth will erupt in your horse's mouth when they are 5-12mths of age. This may or may not interfere with your horse's oral capacity to chew and accept the bit. Wolf teeth are a vestige from the horse's evolutionary past, where they were small forest-dwelling creatures whom ate rougher shrubbery than the grasses that eventually dominated their diets, and is the remains of the 1st cheek tooth or premolar.
Symptoms
If your horse has not yet had their young horse dental exam at 12mths of age and you break them to the bit you may find they have oral issues due to wolf teeth. These may present as:
Head tossing
Bit chewing
Rearing
Pulling on the bit
Not getting 'on the bit' properly
Not responding to direction
Dribbling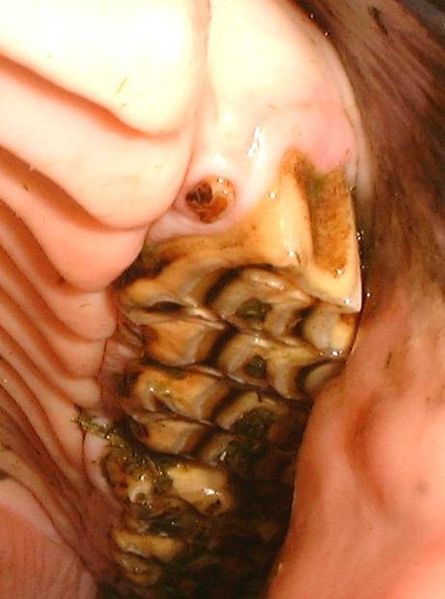 Your horse may also have a blind wolf tooth, which has not erupted but is pressing on the bit and causing pain. That is why it is essential to get an experienced equine dental vet to examine the mouth and ensure such hidden pathologies are not missed.
Diagnosis
Wolf teeth are usually found at your horse's first dental exam, which is usually performed when they're 12months of age. In order to detect them the dental vet will fully sedate your horse safely, and use a gag to gain access to the farthest reaches of the mouth. They will be able to see a wolf tooth with an appropriate torch, and manually palpate it. Sometimes x-rays are necessary to ensure placement, but wolf teeth are usually quite small and thus this is rarely necessary. Occasionally however wolfteeth can be quite large – almost like a small molar - and can also have long and/or crooked roots which can make them difficult to remove.
Treatment
The standard industry recommendation is to remove them if they're present because they don't do any good and in many cases they can cause a problem. Also it may be more expensive to have them removed later down the track when they are causing a problem and are more firmly embedded in the gum layer, than if they are removed when the horse was already having its first dental.
For the horse's welfare all dental extractions need to be performed with a nerve block, because there are very sensitive nerves located in the tooth. Can you imagine being held down and having your tooth smacked out with a chisel, without any anaesthetic or pain relief?! You probably wouldn't do this to your horse either! This means you will need to get a dental vet to perform extractions, so that they can safely and legally administer the appropriate drugs for that individual horse (much like humans, individual horses react differently).
Prognosis
Wolf teeth extraction is a very common dental procedure and because the teeth are very small most horses recover very well. If the wolf teeth are removed early you are lessening the likelihood of your horse having dental problems. To continue to ensure your horse's comfort and performance is not affected by dental pathologies, ensure they receive their annual check-up and float. To read more on the Hoof n Paws/VEVS Full Dental Exam click here.