At Hoof n Paws & VEVS we endeavour to not only treat our patients with the utmost care, but also the environment, which manages to support everyone so wonderfully well. We understand that in order for future generations to have similar lifestyles and experiences as we have, we must do our very best to limit our environmental impact.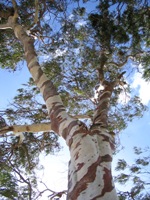 Below is information on the sustainable focus exercised in our clinic's construction and our office practices.
Clinic Construction
Our clinic is fully-insulated using the Air Cell Glare Shield to aid cooling
We have installed two 22 500 L water tanks to utilise all of the run-off from our big roof
We have installed a Nature Flow Bio Cycle Toilet, and will be continuing our use of recycled toilet paper
Our clinic interior is coated in eco-paint
We use Animal Eco Bedding in our stables, not only is it good for the planet, but it has the added bonus of being dust-free and very soft
Office Practice
We have fully implemented 100% recycled paper, both in our office paper and envelopes
To minimise paper waste, our newsletter is sent out via email
We recycle all waste paper and cardboard, either by processing it through recycling companies or shredding it to use in our vegie patches
We aim, wherever possible, to use chemical-free methods of cleaning, or environmentally-friendly brands (planet-ark-approved).